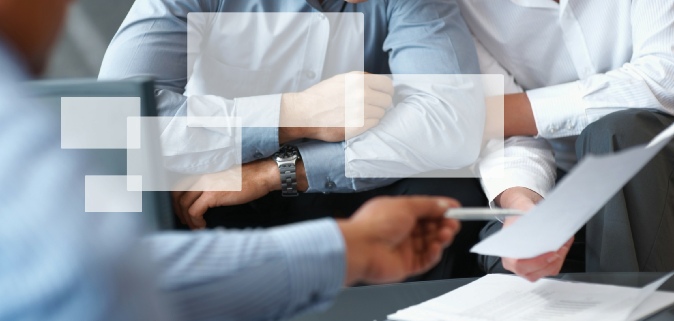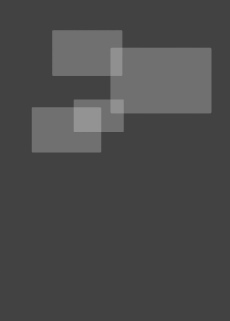 SETTING NEW STANDARDS FOR QUICKBOOKS® SYNCHRONIZATION.
Synchronize your QuickBooks data with Microsoft® SQL Server™.










Ridgefield Consulting Inc - Meriden, Connecticut USA Telephone: +1 (203) 900-4132 Email: Contact Us
Intuit and QuickBooks are trademarks and service marks of Intuit Inc., registered in the United States and other countries.
QBSQL and QBBRIDGE are trademarks and service marks of Ridgefield Consulting, Inc.
OPTIMIZATION FILE SETTINGS

The QODBC Optimization file or Opt File is used by QBSQL to speed up the retrieval and transfer of your Company file data.
When you create a QBSQL Connection to your QuickBooks Company File, QBSQL automatically sets a default location for the Opt file.
You can change the default location by going to the Settings Tab → Opt File Location Tab.
To find out more about setting up QBSQL™ refer to our Quick Start Guide.


Powerful Synchronization Capability At Your Finger-tips.



SELECTING THE OPT FILE LOCATION
The QODBC Optimization file can be stored anywhere you want. By default, all optimization files are located in the QBSQL\Optimizer sub-directory.
SHOULD I BACKUP THE OPTIMIZATION FILE?
The QODBC Optimization file 'can' get corrupted. If your optimizer file is relatively small, this is not a big deal since you can simply delete the opt file and rebuild it by performing a sync.
However, if your QuickBooks company file is relatively large, then the QODBC Optimization file will also be quite large... And this means that it can take a fair bit of time to 'rebuild' the Optimization file.
In order to avoid this time consuming interruption it is advisable to allow QBSQL to perform scheduled backups of the Optimization file.
OPTIMIZATION BACKUP FREQUENCY
How often you backup your Optimization file is up to you. But we recommend that you schedule your backups to occur 'After' you have performed a Sync.
If you're performing Scheduled Synchronization then you will want to monitor how long a Sync takes to run and then set a Scheduled Optimizer backup shortly after each run.
For example: A Scheduled Sync occurs at 1PM and takes 10 minutes to complete.
Set a Scheduled Optimizer File backup to occur at 1:15PM
BACK-UP TO DIFFERENT LOCATIONS
You can set your Scheduled Optimizer File to be backed up to a local directory during day-time runs.
You can then create a Scheduled Optimizer File backup to a final backup location such as a USB Drive to occur after hours.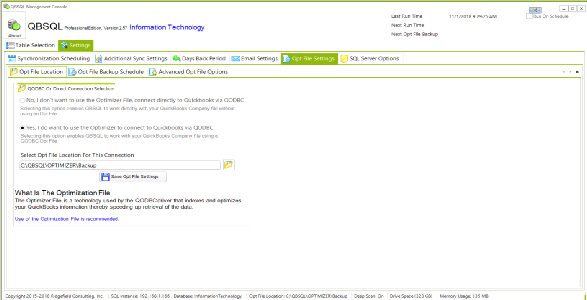 Click Image For Larger View
OPTIMIZATION FILE SCHEDULED BACKUP

The QODBC Optimization file changes each time you synchronize your Company file data with SQL Server.
There are a number of reasons why you may want to have backups of the Opt File, but it isn't necessary.
You can setup and change the Opt File Backup Schedule by going to the Settings Tab → Opt File Backup Schedule Tab.
Each Scheduled Backup can have a different Backup Location.
For example: Your daily runs might all go to one particular location but you might want to setup a nightly backup location to a different drive/folder.
Click Image For Larger View